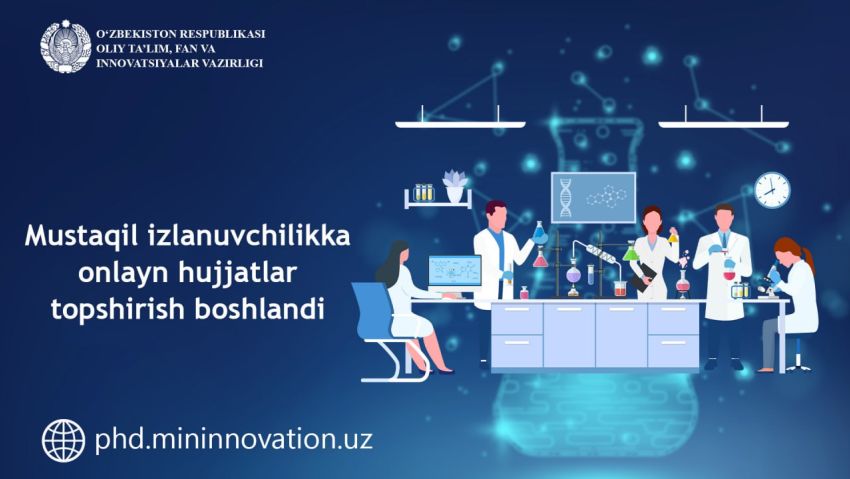 #e'lon
Mustaqil izlanuvchilikka hujjat topshirmoqchi bo'lgan talabgorlar diqqatiga!
Vazirlar Mahkamasining 2017-yil 22-maydagi 304-son qarori talablariga muvofiq 2023-yil 2-chorak uchun oliy ta'limdan keyingi ta'limning shakllaridan biri mustaqil izlanuvchilikka Yagona elektron tizim — phd.mininnovation.uz orqali hujjatlarni onlayn topshirish boshlandi.
Hujjatlar joriy yilning 15-fevraliga qadar qabul qilinadi.
Mustaqil izlanuvchilik — falsafa doktori (Doctor of Philosophy (PhD) yoki fan doktori (Doctor of Science (DSc) ilmiy darajalariga da'vogar izlanuvchilar uchun ishlab chiqarishdan ajralmagan holda tashkil etiladigan oliy malakali ilmiy va ilmiy-pedagog kadrlar ixtisosligi bo'yicha oliy ta'limdan keyingi ta'lim shakli.
Ma'lumot uchun, yuborilgan hujjatlar ilmiy yoki ta'lim tashkilot tomonidan ko'rib chiqilib, qaror qabul qilinadi.