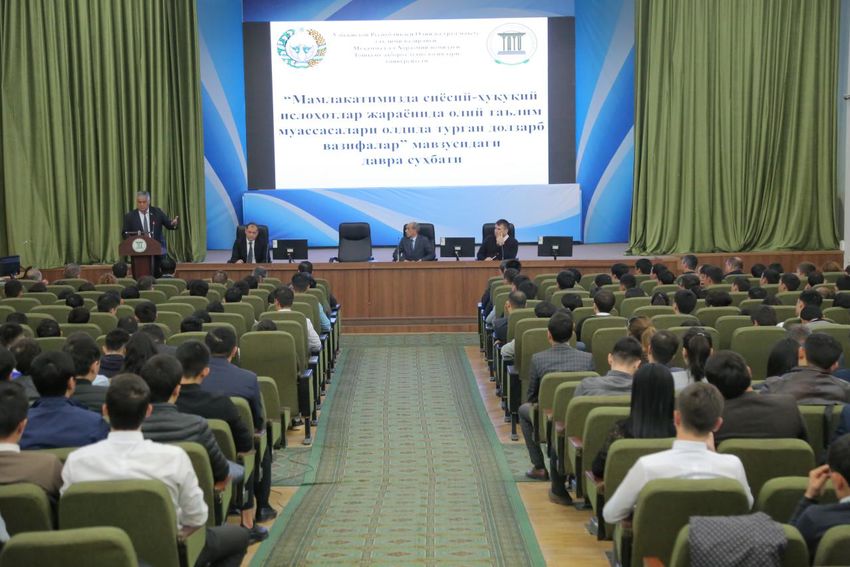 On November 14 this year, a round table discussions were organized at Tashkent University of Information Technologies named after Muhammad al-Khwarizmi together with the Ministry of Higher and Secondary Special Education on topic: "Actual tasks of higher educational institutions in the context of political and legal reforms in our country."
The round table was attended by the Chairman of the Senate Committee on Judicial Legal Issues and the Fight against Corruption Matmuratov Batir Dzholdasovich, senior prosecutor of the Tashkent city prosecutor's department Sodikov Ulugbek Tokhirjonovich, leading specialist of the Ministry of Higher and Secondary Special Education Kholmmmatov Azimjon Khazratkulovich, university leaders, teachers and students of TUIT.

The content of the Decree of the President of the Republic of Uzbekistan dated October 8, 2019 "On the approval of the Concept for the development of the higher education system of the Republic of Uzbekistan until 2030", the tasks that higher educational institutions faced during the period of large-scale transformations in the country were discussed in the event. In particular, participation of regional, district and city assemblies of people's deputies in the election of deputies to the Legislative Chamber, the purification of higher education system from corruption, the widespread involvement of young people in cultural life, art, physical education and sports, the formation of skills of correct use of information technologies, developing a reading culture, ensuring the employment of women are fundamental in the implementation of 5 important initiatives.
TUIT Press Service